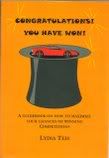 83 pp, RM17.90
Published by Malita Jaya, 2001

Congratulations! You have won! – A guidebook on how to maximize your chances of winning competitions offers common-sense advice to put you on the winning track.
Contents
1. Of compers and comping
2. Competitions galore
3. Don't sabotage your chances!
4. All in the family
5. Do your homework
6. Procuring POPS
7. Writing winning slogans
8. Nab them on the net
9. From the organisers' perspective
10. Congratulations!
Testimonial from a grateful reader
Dear Lydia,
I read your article about winning competitions in the Star some time back. It featured your book "Congratulations You Have Won" which I got my husband to hunt down and buy. He said he couldn't locate it. As it turns out to be, he had in fact found it and was keeping as a Christmas present for me. Needless to say, it is indeed one of the BEST Christmas present I've ever had.
Once I read it, I was so relieved to discover that what I was doing (entering competitions at that time) was a pastime that many fervently indulged in. It introduced me to the words comping and compers. It motivated me to know that what I was doing in fact could contribute to the income of my family. Never in my wildest dream did I expect so many delightful surprises to come through my mailbag. Needless to say I was inspired to go full steam into comping since that day.
Thanks to you I have won countless contests since then. Amongst them are three grand prizes. All these wouldn't be made possible if I stuck to my nine to five job waiting for my measly salary. My family wouldn't be able to enjoy such luxurious treats every now and then. Life would simply be a sheer struggle…. also boring,monotonous and meaningless.
You said in your parting note that "if you have never won anything at all, to secure at least a consolation prize in any contest". Well in my case, you have certainly helped me get more than that! For that I thank you from the bottom of my heart.
Goh LL
To purchase the book
This book is no longer available at the bookshops. If you're interested in purchasing it, please email me at tehlydia@yahoo.com for an autographed copy.