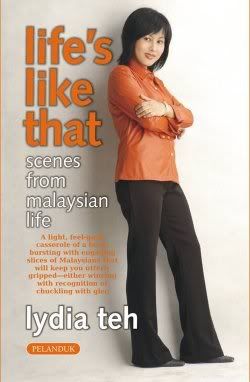 306 pp, RM29.90
Published by Pelanduk Publications, 2004
Book Description
A light, feel-good casserole of a book, bursting with engaging slices of Malaysiana that will keep you utterly gripped – either wincing with recognition or chuckling with glee.
New Straits Times, September 26, 2004
Teh writes with wit and an observant eye… It's just the thing to perk you up on a rainy day.
Best seller lists :
Popular – No. 6 for non-fiction books in December 2007
Popular – No. 9 for non-fiction books in November 2007
Readers' comments
Your stories were so funny that I actually laughed to myself … It was a joy reading your book. I'm proud to say that your book is the first non-studying book I've ever finished reading. Edwin.
U have a good sense of humour and sarcasm, and i found myself laughing aloud for the first time while reading a book! my brother thought i was nuts. Sue Ann.
I just finished your book and I think you are a great writer. I simply enjoy the way you describe us Malaysians and I told my wife, Kelly – a Singaporean that you brought out in words what Lat did in drawing. Victor.
I'm a Malay guy, 26 years old from Seremban. I just finished reading your book "Life's Like That". Two thumbs up! Well, many new things I can learn from your experience. And the most important thing is the exposure on the daily life of Chinese community, as I have limited relationship with Chinese friends. Keep up with your writing! Max C.
I've just finished your "Life's Like That" and I got to hand it to you, it was exceptionally enjoyable and awe-inspiring . I brought back the book to my hometown in Kedah four days before Hari Raya and finished it five days later even with the Raya's hectic preparations. The funny thing is, I'm a man and I can associate with all the subject matter that was portrayed. You were right. I can feel the connection and without a doubt, the book effortlessly transcends race and culture. Aslan
This e-mail is just a note of encouragement and also to say that your book is interesting and light-hearted. It kept me reading all the way from the beginning to the end. Grace Goh.
There are so many other wonderful comments from my readers for which I thank them from the bottom of my heart. I appreciate them for taking the effort to write in to me.
Where to get the book
From all major bookstores.